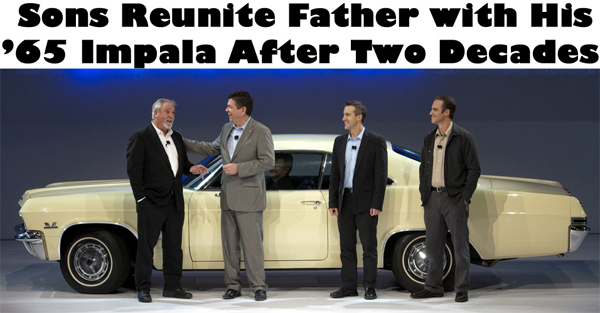 Herb Younger (l to r) tells Chevrolet Vice President Global Marketing and Strategy Chris Perry the story of how his sons Jared and Derek reunited him with his 1965 Impala - after he had sold it in the 1980's to pay for their education - Wednesday, November 16, 2011 at the Los Angeles International Auto Show. (photo by Steve Fecht for Chevrolet)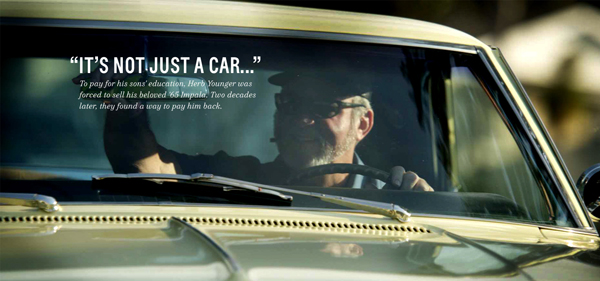 Herb Younger thought his cherished 1965 Impala SS was out of his life forever when he sold it in the 1980s to pay for his children's education. Now his car is back with him, an emotional reunion captured on video for all to see.
Chevrolet, keeping with its theme of showcasing authentic moments, created a 60-second TV spot and long-form online version of the real-life homecoming.
Younger bought his Impala new in 1964 and amassed nearly a quarter century of family memories before selling it.
Two decades later, his sons decided to reunite their father with his Impala. After five years of tracking Vehicle Identification Number leads through several states, they finally located their dad's Impala in Canada and purchased it over the telephone. The car was still in pristine condition.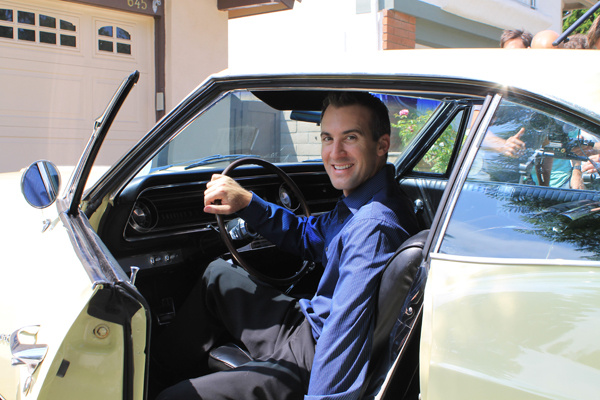 Additional Information
Our Location
18426 Brookhurst Street
Ste. 103

Fountain Valley
,
CA
92708
(714) 546-2020
Follow Us